Site Rules and Information – Sunrise
Sunrise beach flying site at Noosa is located in one of the most prestigious areas on the Sunshine Coast.
The SCHGC club recognises the various sensitivities of this location and over the past few years has developed a protocol for safe and responsible flight. Management of this site relies upon a close and co-operative partnership between the local residents and every pilot that flies this site.
The following conditions apply to all pilots flying this site:
1. We consider the other members of the public when using public land, try to keep noise down and make sure litter is put in the bin.
2. No cameras are allowed in flight as many of the beach front homes at Sunsise Beach have glass fronts overlooking the beach and ask that we respect their privacy.
3. No flying within the RESTRICTED ZONE (30m Horizontally from all properties, see below) Unless 100ft vertical separation from all properties is maintained.
4. As with all sites, all pilots to be members of the HGFA & SCHGC.
5. Only 3 pilots in the air at any one time in front of launch.
As usual, all other protocols and regulations as per the HGFA apply.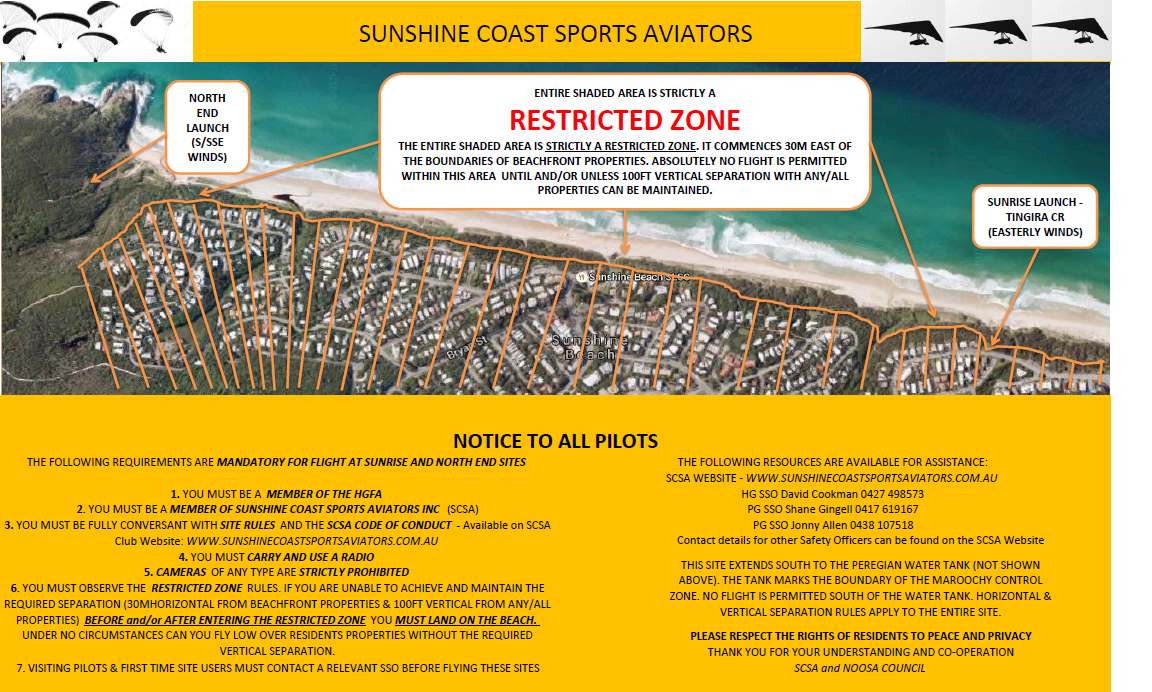 Wind Direction
This site takes an Easterly wind direction. CHECK OUT the current weather HERE
Experience Level
All Levels
Who to Contact
The primary contacts for this site are listed below.
If you are unable to reach one of these people, please get in touch with another club safety officer before flying.
Paragliding Safety Officer:
John Vasta Tel: 0416 283 883
Shane Gingell: Tel: 0417 619 167
Hang Gliding Safety Officer:
Dave Cookman Tel: 0427 498 573
Photos of Flying at Sunrise Beach